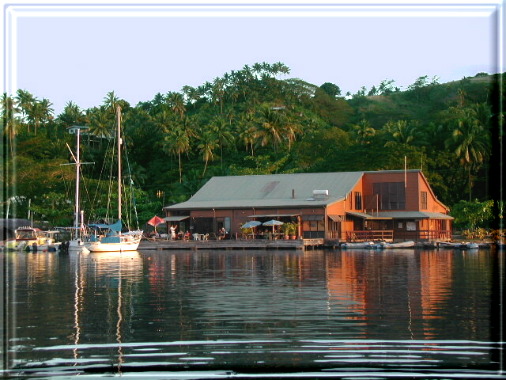 The historical Copra Shed of Savusavu town, was refurbished in 1989, and now houses various businesses including the Savusavu Yacht Club Bar, Captain's Cafe with great Pizza specialties, SSRE Internet communications, Airline and Ferry ticket agencies, craft shops, marine hardware shop, etc.
Use of the dingy dock, showers and toilets, fresh water hose, moorings, etc., is covered by a usage fee on a daily or monthly basis, with seasonal rates.
Municipal water here is considered potable, but can get silted after strong rains. Of course most prudent sailors and travelers filter and boil water to be used for drinking, cooking, or ice cube making, no matter where they are. Bottled drinking water is available in the local stores.